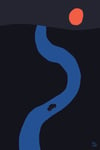 Inkjet print on matte cover paper.
12 in x 18 in.
20 in x 30 in.
Made-to-order.
Also available as a 24x36 in. print, with supplement for postage (please contact me for info).
Please allow a period of up to 7 days for production and dispatching. Contact me if your order is urgent. Also note that posters are shipped separately from smaller prints.
*Free pickup for locals living on the island of Montreal with promo code PICKUP.
—
Impression jet d'encre sur papier affiche mat.
12 po x 18 po.
20 po x 30 po.
Imprimé sur commande.
Également disponible en format 24x36 po., avec un supplément pour les frais de port (svp me contacter pour plus d'info).
Veuillez prévoir un délai allant jusqu'à 7 jours pour la production et l'expédition. Contactez-moi si votre commande est urgente. Notez également que les affiches grands formats sont expédiées séparément des petits formats.
*Pour les habitants de l'île de Montréal, vous pouvez éviter les frais de livraison et venir ramasser votre commande gratuitement avec le code promo PICKUP.